This Week I Got Some Really Amazing Books! I Went To This New Book Store Where They Sell All Hardbacks For $4 And Paperbacks For $2!! I Went Crazy Buying Books!!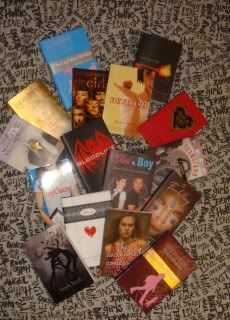 1. Hush, Hush by Becca Fitzpatrick
2. Bleed by Laurie Faria Stolarz
3. Goy Crazy by Melissa Schorr
4. If I Have a Wicked Stepmother, Where's My Prince? by Melissa Kantor
5. Incantation by Alice Hoffman
6. The Girls by Amy Goldman Koss
7. Out of the Wild by Sarah Beth Durst
8. Bloodline by Kate Cary
9. Devilish by Maureen Johnson
10. Girl v. Boy by Yvonne Collins & Sandy Rideout
11. 6X : The Uncensored Confessions by Nina Malkin
12. Marly's Ghost by David Levithan
13. Dramarama by E. Lockhart
14. The Foretelling by Alice Hoffman
15. Kissed by an Angel Trilogy (Kissed by an Angel Series) by Elizabeth Chandler (Second Copy)
16. Into the Wild by Sarah Beth Durst (Signed! There Was Even A Double-Sided Book Mark Feat. Both Wild Books! I Can't Believe I Bought From The BookStore Like That. I didn't Even Know Till I got Home!)

And then My Mom Came Home With All Of This For Me... I Love Emily the Strange! And I Love My Mom!!




1. Emily's Good Nightmares: Emily the Strange by Rob Reger and Inc. Cosmic Debris
2. Emily the Strange: Seeing Is Deceiving by Rob Reger and Inc. Cosmic Debris
3. Emily's Little Black Address Book
4. Emily's Strange Stationary
5. Emily Some Girl's Are Stranger Than Others Journal
6. Emily's Nothing To Hide? Diary

So What Did You Get This Week?

First Five People To Comment On This Post Get A Free Megan Crewe Give Up The Ghost Bookmark!! Just Comment And Shoot Me An E-Mail With Your Addy!! Be Sure To Mention Your Nickname Or Blog If You Have One!

KailaEscobales(at)aol(dot)com

Enjoy!!

xoxo
Kaila