First Up Is Ghost Girl: Homecoming by Tonya Hurley To Be Released Tommorrow July 1, 2009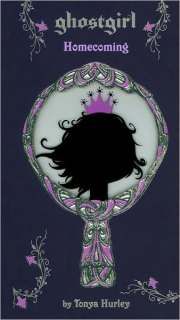 Synopsis

Heaven couldn't be a phone bank, could it?

Charlotte Usher discovers that the afterlife isn't quite what she pictured when she's forced to intern at a hotline for troubled teens. Before she can officially cross over, she'll have to be a source of guidance for one such teen. The problem is she doesn't have much advice to offer since dying hasn't exactly boosted her confidence level.

But when Hawthorne High's leading, love-to-hate cheerleader Petula and her gothic little sis' Scarlet find themselves suddenly resting-in-peace in comas, Charlotte's opportunity to save them will prove to be the risk of a lifetime-for all of them.

If You'd Like To Know More About Tonya You Can Visit Her Website At
http://www.tonyahurley.com/

Visit The Ghost Girl Website
http://www.ghostgirl.com/

And If You'd Like To Order This Book Visit Barnes & Noble Here
http://search.barnesandnoble.com/Ghostgirl/Tonya-Hurley/e/9780316113595/?itm=2

Next Up Are 3 Books Scheduled To Be Released July 7, 2009

The Long Awaited Debut Novel Eyes Like Stars: All Her World's A Stage by Lisa Mantchev




Synopsis

Seventeen-year-old Beatrice (Bertie) Shakespeare Smith has spent her whole life within the walls of the Theatre Illuminata, a majestic and magical playhouse with thousands of players at the ready. Bertie was a foundling, discovered at the theater door, but management has now wearied of harboring the irreverent, unrestrained, occasionally downright destructive young woman she has become. She must prove-in four days-that she can make an invaluable contribution to the theater or be forever banished. Mantchev seamlessly blends the richly wrought, claustrophobic world of the tradition-bound theater and its age-old dramatic productions with a decidedly modern sensibility. The result is electric. The delicious descriptions of the theater's strange powers are fascinating, the characters vivid, the dialogue smart and sassy and Bertie's fiercely loyal fairy cohorts from A Midsummer Night's Dream bawdy and hilarious. Clever mini-scripts, usually flashbacks, materialize throughout the novel like songs in a musical. The palpable sense of urgency is also fueled by some well-staged romance, as well as by Bertie's quest to discover who she is and what she's made of. Brava! Encore!

If You'd Like To Know More About Lisa You Can Visit Her Website Here
http://lisamantchev.com/main.php

And If You'd Like To Order This Book You Can Visit Barnes & Noble Here
http://search.barnesandnoble.com/Eyes-Like-Stars/Lisa-Mantchev/e/9780312380960/?itm=1

Release Date - 7/7/09

Another Long Awaited Book Is The Second In The Immortals Series Blue Moon by Alyson Noel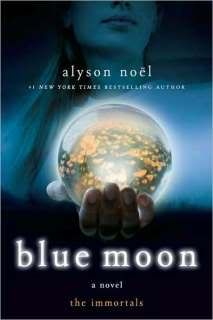 Synopsis

Eager to learn everything she can about her new abilities as an Immortal, Ever turns to her beloved Damen to show her the way. But just as her powers are increasing, Damen's are waning.

In an attempt to save him, Ever travels to the magical dimension of Summerland, where she learns the secrets of Damen's tortured past; a past which he has always kept hidden from her. But in her quest to cure Damen, Ever discovers an ancient text that details the workings of time. Now Ever must chose between turning back the past and saving her family from the accident that claimed their lives—or staying in the present and saving Damen, who grows sicker every day...

If You'd Like To Know More About Alyson you Can Visit Her Website Here
http://www.alysonnoel.com/

And If You'd Like To Order The Book You Can Visit Barnes & Noble Here
http://search.barnesandnoble.com/Blue-Moon/Alyson-Noel/e/9780312532765/?itm=1

Release Date - 7/7/09

A Book That I've Been Waiting For Is Crash Into Me by Albert Borris

Synopsis
Owen, Frank, Audrey, and Jin-Ae have one thing in common: they all want to die. When they meet online after each attempts suicide and fails, the four teens make a deadly pact: they will escape together on a summer road trip to visit the sites of celebrity suicides...and at their final destination, they will all end their lives. As they drive cross-country, bonding over their dark impulses, sharing their deepest secrets and desires, living it up, hooking up, and becoming true friends, each must decide whether life is worth living--or if there's no turning back.
If You'd Like To Know More About Albert You Can Visit His Website Here
http://www.albertborris.com/
And If You'd Like To Order This Book You Can Visit Barnes & Noble At
http://search.barnesandnoble.com/Crash-into-Me/Albert-Borris/e/9781416974352/?itm=2
Release Date - 7/7/09
YAY!!! So Many Good Books Coming!!!
xoxo
RagDollVampGirl