This Post Is For Marilyn Kaye's New Series "Gifted". The First Two Books Are Scheduled To Be Released June 9, 2009.

The First Book Is "Out Of Mind, Out Of Sight"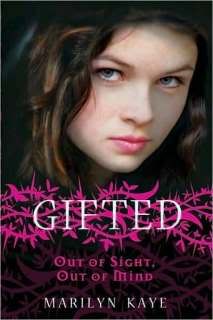 Synopsis:

Queen of Mean Amanda Beeson, 13, gets the shock of her life when she wakes up one morning to find herself in the body of one of her victims, Tracey Devon. Amanda discovers that Tracey, ignored at home and school, has the ability to become invisible. When Amanda finds herself in a special class that Tracey usually attends, it becomes clear that at Meadowbrook Middle School the definition of "gifted" has a whole other meaning. Can Amanda rescue her one-time target from obscurity and get her own life back on track? In order to do so, she will have to reveal her own startling gift and take her rightful place among Meadowbrook's very secret clique.

The Second Book Is "Better Late Than Never"




Synopsis:

Goth girl Jenna Kelley has the ultimate tool to stage a teenage rebellion: she can read people's minds without even trying. When her alcoholic mother is hospitalized, a stranger shows up who says he's her long-lost dad and promises a better future. Too good to be true? Her gifted classmates think so, but Jenna is so determined to have a real parent around and a somewhat normal life that she might have lost her ability to listen.


RagDollVampGirl
I Personally Love The Covers!! They Are So Pretty. These Books Sound Very Different Than Anything I've Read Before. So, I'm Definately Looking Forward To These.

If You'd Like To Know More About Marilyn Kaye You Can Visit Her Website Here www.marilynkaye.com

And If You'd Like To Order These Books You Can Do So By Visiting Barnes & Noble Here:

Book 1 - "Out Of Mind, Out Of Sight" -
http://search.barnesandnoble.com/Out-of-Sight-Out-of-Mind/Marilyn-Kaye/e/9780753462836/?itm=3

Book 2 - "Better Late Than Never" -
http://search.barnesandnoble.com/Better-Late-Than-Never/Marilyn-Kaye/e/9780753463000/?itm=2


xoxo
RagDollVampGirl