Synopsis:

A new guy in town.
Rumors of vampires.
Dangerous first love.
This is where it all begins. . . .

The mansion on top of Benson Hill has stood empty for years. But one day it seems to be occupied, and its mysterious, handsome inhabitant Alexander Sterling becomes the source of much talk around town. Raven, a vampire-obsessed Goth-girl who has always considered herself an outsider in "Dullsville," is determined to uncover the truth surrounding the secretive Alexander. As she gets to know him, and their spark intensifies, Raven finds herself in some unanticipated situations. Can Alexander make her lifelong dream come true? But love always has its complications—especially when it can only be awakened at nightfall.

The first three books in Ellen Schreiber's bestselling Vampire Kisses series capture the thrill of a most unusual romance.

RagDollVampGirl's Review
I First Started Reading The Vampire Kisses Series After I Read The Vampire Diaries Series. I Was Craving More Vampires And I Had Heard About These Books. So I Purchased The Vampire Kisses: The Beginning Box Set. I've Said It Before I Love Vampire Books. These Are More Light, Cute And Funny Compared To Other Vamp Series. I Actually Loved Raven Madison. Although, I Am Not Goth I Absolutely Love Her To Death. In Vampire Kisses, Raven Is Almost Immature In Her Desire To Become A Vampire. But Instead Of Her Being Cheesy, She's Very Eccentric. By The Vampireville Book, She Shows A Lot Of Maturity. I Also Love Alexander Sterling. Who Doesn't? I Love That He Seems Wise And Very Protective Of This Awkward But Brave Girl. If You Love The Chronicles Of Vladimir Tod You'll Love The Vampire Kisses Series.

Rating - 5/5

If You'd Like To Order This Box Set You Can Do So By Visiting Barnes And Noble At:
http://search.barnesandnoble.com/Vampire-Kisses-Box-Set/Ellen-Schreiber/e/9780061691607/?itm=2

In April, 2009 Ellen Schreiber Merged All Three Books Into One Paperback Edition.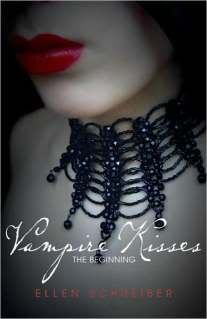 If You'd Like To Order This Version You Can Do So By Visiting Barnes And Noble Here:
http://search.barnesandnoble.com/The-Beginning/Ellen-Schreiber/e/9780061778940/?itm=4

And If You'd Like To More About Ellen Schreiber Or The Vampire Kisses Series You Can Do So By Visiting Her Here: http://www.ellenschreiber.com/home.htm

Enjoy

xoxo
RagDollVampGirl