The Following Three Books Are All Scheduled To Be Released On June 23, 2009...

First Up Is "Fairytale by Cyn Balog"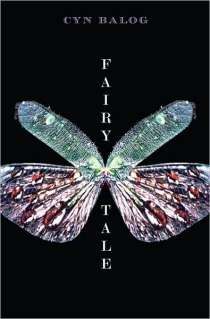 Synopsis

A captivating and witty dark fantasy that will have girls lusting after it.

Morgan Sparks has always known that she and her boyfriend, Cam, are made for each other. But when Cam's cousin Pip comes to stay with the family, Cam seems depressed. Finally Cam confesses to Morgan what's going on: Cam is a fairy. The night he was born, fairies came down and switched him with a healthy human boy. Nobody expected Cam to live, and nobody expected his biological brother, heir to the fairy throne, to die. But both things happened, and now the fairies want Cam back to take his rightful place as Fairy King.

Even as Cam physically changes, becoming more miserable each day, he and Morgan pledge to fool the fairies and stay together forever. But by the time Cam has to decide once and for all what to do, Morgan's no longer sure what's best for everyone, or whether her and Cam's love can weather an uncertain future.

RagDollVampGirl
I Really Want To Read This One.. But I Do Have To Say I Absolutely Hate The Cover...

If You'd Like To Know More About Cyn Balog You Can Visit Her Website Here
http://cynbalog.com/

And If You'd Like To Order This Book You Can Do So By Visiting Barnes & Noble Here
http://search.barnesandnoble.com/Fairy-Tale/Cyn-Balog/e/9780385737067

The Next Book Is "Nothing But Ghosts by Beth Kephart"




Synopsis

Ever since her mother passed away, Katie's been alone in her too-big house with her genius dad, who restores old paintings for a living. Katie takes a summer job at a garden estate, where, with the help of two brothers and a glamorous librarian, she soon becomes embroiled in decoding a mystery. There are secrets and shadows at the heart of Nothing but Ghosts: symbols hidden in a time-darkened painting, and surprises behind a locked bedroom door. But most of all, this is a love story—the story of a girl who learns about love while also learning to live with her own ghosts.

RagDollVampGirl
This One Seems Really Good... Beth Is An Amazing Author... The Cover Is Not So Bad Either...

If You'd Like To Order This Book You Can Do So By Visiting Barnes & Noble Here
http://search.barnesandnoble.com/Nothing-but-Ghosts/Beth-Kephart/e/9780061667961/?itm=1

The Last Book Up Is "Alyzon Whitestarr by Isobelle Carmody"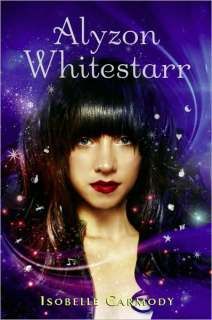 Synopsis

Are Alyzon's new abilities a blessing . . . or a curse?

Alyzon Whitestarr doesn't take after her musically talented father or her nocturnal, artistic mother. In fact, she's the most normal member of a very eccentric family . . . until the day that an accident leaves her more unique than she ever could have dreamed.

Suddenly colors are more vibrant to Alyzon; her memory is flawless; but strangest of all is Alyzon's sense of smell. Her best friend smells of a comforting sea breeze. She registers her father's contentment as the sweet scent of caramelized sugar. But why does the cutest guy in school smell so rancid?

With Alyzon's extrasensory perception comes intrigue and danger, as she becomes aware of the dark secrets and hidden ambitions that threaten her family. In the end, being different might be less of a blessing than a curse. . . .

RagDollVampGirl
I'm Very Excited About This One... Love, Love, Love The Cover...

If You'd Like To Order This Book You Can Do So By Visiting Barnes & Noble Here
http://search.barnesandnoble.com/booksearch/isbninquiry.asp?ean=9780375839382

Remember, All 3 Books Are Scheduled To Be Released Tuesday, June 23, 2009...

Enjoy!!

xoxo
RagDollVampGirl