So, I'm Going To Post A List Of Books That I've Gotten This Past Week!! Awesome, Right?? I'm Feeling A Bit Under The Weather So I Won't Do A Video.. Trust Me!! I'd Scare You Guys And Gals Away!! LOL!!

So Far I've Recieved & Bought

1. "Fragile Eternity by Melissa Marr"


I Won This Book In A Contest Held By Kimberly Derting.. (Thanks, Kim!!)

2. "You Are So Undead To Me by Stacey Jay"


Got This In Clearance At B&N!! I Always Wanted To Read It.

3. "Generation Dead by Daniel Waters"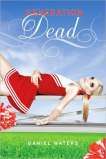 Paperback Version Just Came Out So I Bought It.

4. "Zombie Queen of Newbury High by Amanda Ashby"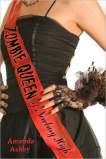 New Paperback!! Bought It At B&N!!

So There You Have It!! Fairies And Zombies Galore!! Since I'm Not Feeling So Hot I've Just Been Reading... It's Great Medicine...

xoxo
RagDollVampGirl